Avira Antivirus 15.0.1907.1514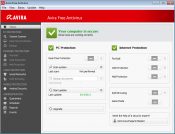 Avira Free Antivirus is a great antivirus solution used by millions of people worldwide. It features a Web Guard option, available with the toolbar activated, providing enhanced security on social networks, and keeping a keen eye for privacy and safe surfing on the internet even with low hardware resources. The producers updates the virus signature database very often, thus offering better detection rates than before and providing protection in real time against threats like viruses, Trojans, worms, and root kits, adware. Users' activities on the web are no longer tracked down by companies trying to sell their products.
Any attempt to spy on the user's preferences are blocked, thus the working environment gets safer and the browsing experience smoother with the option to remove adware. Furthermore, the safety advisor keeps users informed on the level of reliability and safety of any website.
Avira Antivirus features and benefits:
Real-Time Protection - Keeps your PC clean by blocking viruses, worms, Trojans, rootkits and more

Browser Tracking Blocker - Absolute privacy from companies trying to track your web activities. Included in the Avira Toolbar

AntiAd/Spyware - Blocks all attempts to spy on you and rids you of annoying adware

Website Safety Advisor - Rates the Security of websites in your search results. Included in the Avira Toolbar