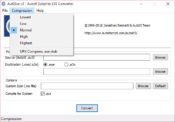 Specific computer programs and routines can be automated to save time. You can use this program to manage your daily repetitive tasks without making them manually.
AutoIt works on Basic syntax where you can enter the codes for training your computer to perform specific actions without telling it daily. Although the program has been designed for easy use, you might face difficulties if you don't understand the programming languages.
AutoIt has a solution for it as well. You can read the manuals and the software to help you understand the program's functionality and its proper working. You can edit the examples provided and run them on your computer or use them if they fit the purpose.
The editor and compiler available with the program allow you to check your code and execute the instructions that you have provided to your computer. Simulating mouse and keyboards also get easier using this program for turning them into inputs for the automated version of your computer.
All Windows processes can be easily adjusted using this software. So if you want to generate complex GUIs or create message boxes for specific applications, you can do them quickly.
AutoIt is a tool for creating automation in your computer processes using customized instructions.