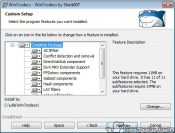 Advanced Codecs for Windows 7, 8, and 10 offers support for most video and audio files. The installation is simple and straightforward; the result won't mess around with installed video players and is sure not to consume too much memory. All previously installed codec packages will be automatically removed to avoid conflicts.
This particular codec pack doesn't come with a video player. On the other hand, it will enable full-color thumbnails, preview panes for MKV and FLV files, description tabs, decoders for 32bit LiveTV, and support for DLNA, MOD, and M4A files.
You can also create playlists for Media Center and use the Xbox360 to play MKV files. Further other features recommend this codec package as a unique alternative to mainstream solutions.
Advanced Codecs features and benefits:
Enjoy thumbnails in full color
Frequent updates
Use PowerDVD decoders in Media Center

Play MKV files on media players

Manage the installed codecs: easy disable/enable