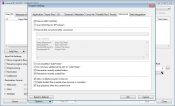 xrecode3 is both an audio grabber and a converter that supports every audio format that existed and still exists on the internet. All audio conversion functions are covered in a sleek and easy-to-use interface, using clear and easy-accessible buttons.
For advanced users, command-line parameters are also made available. In terms of speed, please take notice that it uses multi-core technology to convert as many files as you want to as many different formats as possible.
LossyWav plug-in and 24 or 32-bit support speak for the audio quality this software can provide.
File name:
setup_xrecode3_win_32bit_1.107.exe
MD5 checksum:
AE09921805BE55828FE26BBE8D73A48F
Supported OS
Windows 10 / Windows 8 / Windows 7