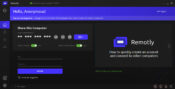 Remotly is designed to provide you with remote access to your computer to capture or play video games easily. It requires the installation of the client app on the system you want to access remotely. You'll need to connect with the server to run this application correctly.
The installation of the application and its configuration are not complicated at all. A straightforward process won't require much of your time.
Additionally, you can even access more than one computer through this application. The configuration allows for simply adding multiple computers. If you don't get access to various computers, you can refresh the application, and it will work adequately.
With Remotly, you can access the gaming computer directly and quickly. It will help in having instant access so that you can play your game from wherever you like.
But one of the things you'll have to take care of while using this application is having a strong internet connection.
Without a reliable internet connection, you won't be able to access the computer or play it.
Going for the full-screen mode for playing the game is also possible through Remotly. You can get access to this mode automatically, but you'll have to adjust the settings. Moreover, you can even switch to the windowed mode as well. Activating hotkeys is also possible in this regard.
Remotly can provide you with an easy opportunity to access your computer remotely, especially for playing games.