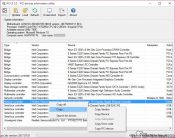 PCI-Z turns to be a useful tool when you need to find out what kind of PCI device you have mounted into the motherboard. Furthermore, information about the PCI-E, PCI-X devices such as the vendor, or the working frequency will also be displayed.
It will help you identify the proper driver for that specific PCI device without having to open the computer, unplug the card, and hope to find valuable data printed onto it.
The software can tell you the vendor, the device classes, and several other pieces of information by interrogating a list of numeric codes, also known as a public repository.
Each device is given a different code, and the program will translate it into human-friendly data.
PCI-Z features and benefits:
detects all PCI/PCI-X/PCI-E cards
helps you find drivers for your Windows OS
reports devices with drivers issues

daily updates with PCI ID database

100% portable
small size