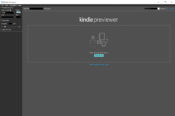 Do you like the way Kindle shows its books? You can then use Kindle Previewer, which will emulate how Kindle works by providing you with a platform where you'll be able to read ebooks.
Ebooks are becoming increasingly popular. They're easier to use since you don't have to go to the library, and they're on-demand, so you're not constrained by various return dates.
Some books are also cheaper, which means you won't have to spend extra for a book's physical copy. And Kindle is one of the best readers for ebooks.
If you want to emulate the way Kindle works without owning one, you can use Kindle Previewer. This application's main purpose is to help you view your ebooks as if you would be reading them with a Kindle, without owning Kindle at all.
It is also appropriate for creating ebooks as you can preview them easily.
Clean Interface for Reading E-Books
Kindle Previewer comes with a rather straightforward interface that looks like the kindle interface. You can open a new document where you only need to select the ebook you want to read.
It will help you open various formats, including AZW, MOBI, PRC, and EPUB. It is an advantage over Kindle since it won't support some of these formats.
There will also be various functions and additional settings with Kindle Previewer. You can rotate the screen, change the font size, and stretch the edges to the dimensions you want.
With this function, you can emulate almost any device that you want to emulate without owning it.
Easy to Use
Additionally, you can design the hotkeys that you want to use with this app, allowing you to access these hotkeys' functions.
It makes it easy for you to read ebooks and do what you want to do without too many problems.
Conclusion
Kindle Previewer is a useful application that will emulate the Kindle interface, enabling you to read ebooks easily with some additional functions.
Kindle Previewer features and benefits:
Preview books in different font sizes, screen sizes and orientations
Supports previewing in

latest layouts, typography and enhanced typesetting

Supports better table formatting, higher resolution images, smoother word spacing, Kerning ligatures and hyphenation