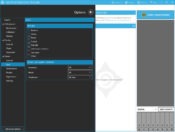 Manage and create your Hearthstone deck and beat your enemies easier with the Hearthstone Deck Tracker, a simple app that will help you improve your decks and make them suitable for various types of fights.
Hearthstone is one of the most popular card games globally, as it has millions of users who are constantly looking to improve their decks and beat opponents by having unique deck builds. If you have many different cards and you don't know how to stack them or organize them, you might need a bit of help, though.
To do that, you can use an application like Hearthstone Deck Tracker. This application will provide you with some great deck combinations for different types of battles, like battlegrounds, arenas, tavern brawls, and others.
It will help you improve your overall game and get more wins, which every Hearthstone player wants to do.
Create and Manage Your Decks
One of the main ways this application can help you is to create your decks and make them suitable for various fights and duels. We must first mention that it comes with a nice and simple interface that will integrate nicely with the device you're using.
You have to connect your account with your Hearthstone account to get started. The application has all the cards that have been released for all kinds of game modes. It will enable you to combine your cards and create the best possible combinations for different game modes.
First, it will analyze your deck and provide suggestions for you. You can create the decks from scratch or use various sources inside the app.
Keep Stats and Progress
Another useful feature of this app is that it will keep your progress with your games and inform you about your games' statistics.
This way, you'll be able to make the changes needed to win more fights and battles.
Conclusion
Hearthstone Deck Tracker can be a useful app for any Hearthstone player. It will help you track your deck and manage it so that it's suitable for different modes.