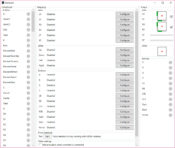 Suppose you want to use your Xbox360 controller for playing video games on a computer. In that case, you can use XOutput, a simple application that will help you transform and convert DirectInput to XInput data, enabling you to use your Xbox360 controller.
Some games are just better with controllers. And if you've gotten used to an Xbox360 controller, then it's understandable that you'll want to use this controller to play your games.
Some games, especially RPG games and some racing games, are better with controllers than with a keyboard and mouse.
If you prefer to use your Xbox360 controller over your keyboard and mouse, you can download XOutput.
Configure the Mapping and Start Playing
The only thing you'll need to launch this application is ViGEm drivers so that the app will make changes. Other than that, the app doesn't even require installation. It will automatically detect all of the devices connected to the computer, allowing you to make the changes and start playing quickly.
You'll see all the changes and configuration options when mapping your buttons in a separate window.
In this window, you can make all the changes you need to make to enjoy your games and start playing with your favorite configuration.
Play Your Favorite Games With Your Preferred Controller
If you love the Xbox360 controller, you can use it even for your PC games. And you'll be able to play almost any game you want to play with this application.
All you need to do is map your keys and start playing without making significant changes to the game.
Conclusion
XOutput allows you to play your favorite games using your Xbox360 controller, allowing you to play your favorite games without interruptions and using your preferred mapping scheme.