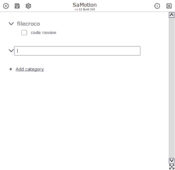 If you are looking for an encrypted to-do list for your device, you need to consider this application. SaMotion can help you create your order of doing things, giving higher priority to the things that you want to do urgently.
Additionally, the creation of a to-do list with SaMotion will enable you to manage your entire task and improve productivity.
The encryption features provide this facility and ensure that there are no chances for data leakage.
You can even export the graphs in the PDF format too. However, the other features of the application are not very advanced. It is created to satisfy the basic functionality of the user in the best possible way.
The categories and subcategories make the usage of the application even more straightforward. Setting up priorities and checking the finished tasks are also possible with this utility.
SaMotion is a protected to-do list that can ensure that you can create handy to-do lists and keep them encrypted.