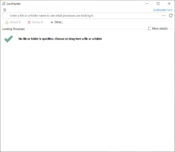 Remove locked files and unlock them with the help of LockHunter, a simple but powerful application that will help you access your locked files and remove them with ease.
If you have some locked files on your computer, it might be for several reasons. It might be because another user has decided to lock them or because you have locked them and don't need them anymore.
In any case, you can use LockHunter to unlock or delete them from your computer. It's a simple and lightweight application with more than enough in its locker to help you unlock these files.
If you want, you can also delete them from your computer altogether. You can do that in a couple of steps.
Right Click, Scan, and Delete
Working with LockHunter is extremely easy. All you need to do is right-click on the selected file or files and perform the actions you want with this tool. You will be able to automatically scan items and see if they're locked, giving you a good idea of whether you'll need to take any actions with this tool.
When you have selected or found a file you want to unlock, you can unlock it with just a few clicks. Again, you'd have to right-click on the file and click unlock to act.
You can also delete it from your computer if it's useless, especially if you think the file might be harmful.
Additional Functions
There is also additional functionality with the command line tool, where you can enter commands and perform the actions with this app that you can't otherwise in the main interface.
It will allow you to terminate processes all at the same time or again. You have to select the ones that you want to delete.
Conclusion
LockHunter is a foolproof file unlocker that will help you when it comes to deleting any unwanted file you can't remove manually.
LockHunter features and benefits:
• get info about the processes that are locking a file or folder
• unlock, delete, copy or rename a locked file
• kill and remove locking processes from hard drive
• works under 32 and 64 bit Windows