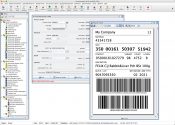 If you're into industrial production, you know that when you mass-produce products, you will inevitably need a good recording and labeling tool. Such a tool should handle large amounts of batches and products easily and still work flawlessly.
And that's what Commander4j does. It will give you all the tools and features for keeping records and easily labeling products. It uses industry-standard GTIN barcodes to achieve that.
To run this application, you must install the Java framework on your computer. You'll also need access to, or at least a database server deployed, such as a Microsoft SQL Server, Oracle, or SQL Server.
Reliable and Fast
One of the most important features or qualities of this app is that it's a reliable app. It means it will not make that many mistakes and will accurately process all the information about your products. With the app, you can perform database insertions, deletions, and product information updates.
By scanning SSCC, you can also use a barcode scanner to permit transactions on pallets.
Get Quick Reports
If you work with large quantities of products daily, you will inevitably need to track the products. That's what Commander4j does with its regular and accurate reports. You can also print these reports and use them as documentation. That makes it easier for you to manage your products and know where you stand.
These reports will contain barcodes and details about each product, which allows you to track your products easier, and to do that, the application will use the databases.
That way, you'll be able to create credentials for each employee dealing with data. You'll be able to give them permissions as well as restrictions. Based on these permissions and restrictions, these employees will be able to perform specific actions or be denied access.
Professional and Reliable Performance
If you're using this application for your business, you will need an application that gets work done reliably and professionally. Commander4j is exactly the tool you might need. It's a reliable application that will accurately store and create product labels.
Conclusion
Commander4j is a utility that will help you perform production recording and labeling. The application uses standard GTIN barcodes to create labels.
It also allows you to set various restrictions and permissions and add extra users of the application if you want to give your employees credentials. It allows them to be able to perform some functions they were not beforehand.