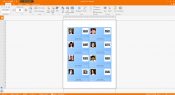 LabelJoy allows you to create unique labels for your products, including badges for your team, barcodes, and other labels that will help you make your products unique.
Every product out there that has any commercial value needs to have a label that represents its ID. It doesn't matter what the value of the product is.
It would help if you still made sure the product had its labels. And if you're looking for the right type of application that will help you create labels easily, this app is the one to go with.
Designing Custom Labels Made Easy
One of the best things about working with LabelJoy is just how simple it is to use. You can start creating your labels in a matter of minutes, even if you have no prior experience with them. That's mainly thanks to the software's intuitive interface, which allows you to scroll through instantly and find what you're looking for.
If you have an idea, this utility can transform it into reality. With it, you'll be able to design and create custom labels from scratch. The only requirement and limitation here is your imagination.
You can set the layout in the preview section and start working on the measurements and sizes to ensure that the label fits your product perfectly.
Use Your Imagination
Once the new label sheet is created, and the measurements are correct, you can start customizing your label. Every label can be fitted with text and barcodes, which is already done for you by default. You can always remove or change them if you want, as you're not limited to what the app offers you from the get-go.
Instead, you can use your creativity to add as many text fields as necessary. There are also extensive font and color options for the text, making the app more versatile. You can even add an image to the label, which you can add straight from your computer or access one from the clipart part of the application.
But this is not all. You can further customize your label by adding new things, such as barcodes. These are generated automatically for the most part, and you can easily create barcodes of almost any type of barcode.
Real-Time Changes
Editing your label is then incredibly easy. You won't have to go through several menus to find your preview. Once you select a font or colors, you're not stuck with that choice. Instead, everything you do is visible in the editor, where you can choose and change a few things as you see fit.
Once you're finished with the label, you can create any image format you want – the most popular ones are available.
Conclusion
LabelJoy is one of the best applications for creating custom labels from scratch. It has an intuitive and easy-to-use interface where you can create a label you will like in a matter of minutes.