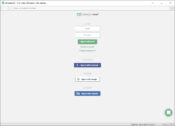 AmazeOwl provides a helping hand while researching the Amazon marketplace for a specific product. This application ensures that you can find the products with high selling potential, track the competition in a particular product category, and track them for you. To get all these benefits from this application, the only thing that you need to do is browse the internet.
One of the limitations of this application is that it offers limited functionalities in the free version. So, you'll have to upgrade to a  premium one, to get all the features and maximum benefits through this application.
You don't have to limit your searches to Amazon only, as the application can also work as a regular browser. You can access any of the websites you like. However, the tools and features of a general browser are unavailable, so you might not want to use it as a substitute for your existing browser.
For Amazon explorers, there is a separate database available for you, which can ensure easy access to the required product and a constant tracking facility. To Explore Amazon, you can set your filters like finding the best sellers, the products, or the company name.
All of these services would be enabled on the usual Amazon pages. Amazeowl integrates the additional features on the Amazon website to help you calculate the data and make appropriate decisions accordingly.
AmazeOwl is a fantastic application when you are searching for Amazon marketplace opportunities. It can provide FBS sellers with all the relevant information and the facility to filter data according to their needs.