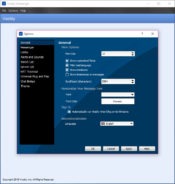 Voobly is one of the most popular platforms that allow you to play multiplayer games with other people from all over the world and helps you stay connected with them via the in-built chat function.
First, it is a social networking app where you can easily connect with people and friends from anywhere in the world and chat with them. This app is excellent if you intend to use it while having other apps open, especially video games.
In that respect, this app will support a variety of video games, including Age of Empires, Age of Mythology, Rainbow Six, Scrabble, Monopoly, and others.
Chat with Teammates
It is especially popular for its chat feature. It allows you to connect easily with others in-game while simultaneously playing your favorite game. First, you will need to create your account.
When you log into the account, you can select your favorite games or add the games to the list of games you want to play.
From there, you will see how many people are connected to Voobly with these games. You can also read the most popular threads and share your activities with friends and other people.
The game needs to be installed separately from this app if you want to use it in combination. When you do this, you'll then be able to see all the chatrooms available for the games you have installed almost instantly.
Then you can pick one, enter the password if required, and enjoy.
Instant Messaging at Your Disposal
The best feature of this app is that it lets you communicate immediately with your teammates and let them know your strategy for the game ahead. You can also automatically join lobbies you've identified as your favorite lobbies. This app will work even on the latest Windows version very smoothly.
When someone messages you, you'll be automatically notified. You can also change the sound of the notifications and tweak other smaller things about it.
Conclusion
Voobly is a great application that allows you to stay in touch with your friends and gamer buddies while having games open simultaneously.