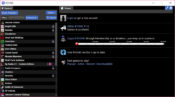 BYOND lets you play 2D indie games, as you'll be able to select your favorite game and play it from a vast array of 2D games you'll have at your disposal.
2D games are constantly developed, and there's a lot of indie developers that are putting these games out constantly.
One of the bigger challenges for gamers is that they cannot find these games easily, as it takes quite some time to find new games sometimes. Some are well-hidden, so you might even miss them.
Luckily, you can use a tool like BYOND, an interface that will allow you to play 2D games easily. You can find many great games from indie developers here, so you don't have to search the internet so much. It offers some neat tools to develop your games.
Create and Play Games
This platform is primarily meant for 2D games. It focuses on indie developers, which tend to be often ignored in the sea of triple-A developers. You can find some popular games, and you can filter them down as much as you want.
You'll be able to sort them by popularity, date, activity level, and other filters.
There's great variety with the games you can play. Each game comes with its controls and unique features, so you'll be able to have new experiences all the time. You may even invite friends and play these games with them.
What is more, you'll be able to develop your games and create nice ones using the tools inside.
2D Games Galore
There are hundreds of titles to choose from here, and it's one of the go-to 2D gaming platforms for gamers. So if you like 2D games, then you won't be disappointed, as you'll find many different genres here, too.
Conclusion
BYOND is a great interface that will help you play 2D games by indie developers and create your games with this platform.