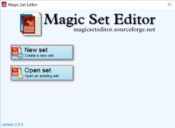 If you're a Magic the Gathering fan and wish to create your own cards, you can use the Magic Set Editor, enabling you to create your cards, edit your card sets, and more.
Magic the Gathering is one of the most popular card games in the world. It is well-known for its iconic cards that have been around for many years now – some are rare than others, but they make the game more interesting and fun.
But many people have turned to applications that let them create their custom cards.
With this app, you'll be able to create your custom Magic the Gathering cards, as you'll be able to use your images and add custom text.
You can create some outrageous cards for a bit of fun or create cards missing from your set with ease.
Fun App for Creating Cards
Magic Set Editor is primarily aimed at those users who want to have a bit of fun. It's a light-hearted application at heart, which enables the app users to create custom cards.
It includes creating cards with custom images and text, which can lead to some fun creations in the end.
The creation of the cards inside the app is pretty easy itself. You'll be able to create cards with ease, thanks to the image and text editor available inside the interface.
If you're familiar with text editors and image editors, then you should not have any problems when creating cards using this app.
Feature-Rich
The application has a rich set of features, as it will allow you to have fun or create the cards that you're missing with ease. It makes the process easy, but it's also engaging and fun if you want to have some fun time with the app.
Conclusion
Magic Set Editor is a fun app for Magic the Gathering users, allowing them to create their cards with ease and add cards to their set.