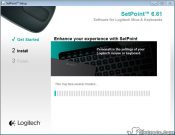 SetPoint is the Logitech tool for keyboard and mouse configuration. Whereas these two essential devices work well enough without any driver, you should try them and see the differences as there are some.
Not only can that mouse buttons be configured as you like, but the keyboard's F keys and hotkeys get easily manageable by using the driver.
Tracking speed and some other specific settings will be easier and faster to configure after installing the package.
From Caps Lock and Num Lock to the battery level in your laptop, the integrated app will display everything that's needed.
SetPoint features and benefits:
Hotkeys at your service
F-keys that function your way

Blocking the lock keys

Battery check-up
Making special features more special