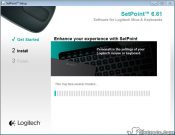 SetPoint is the Logitech tool for keyboard and mouse configuration. It provides you with options to customize the actions of the button presses.
For example, you can assign functions to your mouse buttons or keyboard keys to differentiate them from the default actions.
Whereas these two essential devices work well enough without any driver, you should try them and see the differences, as there are some.
App for Customizing Gaming Controls
The main usage of this application for most people will be setting up keyboard and mouse configurations for gaming. With the app, you can create presets that you can use for certain apps and games.
This way, you'll be able to customize the layout of your peripherals so that they fit your needs completely.
The integrated app will display everything from Caps Lock and Num Lock to the battery level in your laptop.
With the app, you can also set up the configurations to kick in automatically when a game or an application is opened.
With this setting, you'll be able to start the game and get going without spending extra time setting up your keyboard and mouse configurations.
Customize Keyboard and Mouse Layout
The basic settings inside Logitech SetPoint will allow you to change the layout of your keyboard and mouse. You can create new information so the app can use it, but you can copy and paste it from other sources.
In addition, you can also set up Charms and set up what your scrolling and other pointing buttons do.
In addition, another positive thing about this app is its simple interface. The app's look is clear and should be simple enough for almost everyone.
There's also additional information and documentation that you can use to change the settings as you wish them.
Conclusion
To conclude, Logitech SetPoint is an application that allows you to change the configuration of your Logitech peripherals, such as a keyboard and mouse.
It's particularly great for gamers as it detects the games automatically and runs the configuration by itself.
SetPoint features and benefits:
Hotkeys at your service
F-keys that function your way

Blocking the lock keys

Battery check-up
Making special features more special