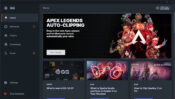 For game lovers, this application is just a blessing that can directly interact with the games and reduce the back-end operations on your computer. It helps the users in generating the best game output. You can gear up for playing the game most efficiently — ammo, life, money kills, and health is made part of the gear through SteelSeries GG.
Moreover, these are only some of the additions you can make to the gear. This application provides endless possibilities.
It also allows you to change your games' display by providing you with all the information handy. You can customize all these settings to let yourself enjoy the game in the best possible way.
This application does not require much of your computer resources; instead, it can optimize the use of resources to generate the best game performance. Moreover, the application is user-friendly and can easily work on cross platforms, thus allowing you all the liberty to enjoy your free time.
With various customizable options, you can enjoy your game to the fullest. It also allows you to back up your game and save it on the cloud so you won't miss any of it. Additionally, sharing and syncing your progress across platforms is also possible.
SteelSeries GG is a cross-platform application that allows you to change some of your game settings.