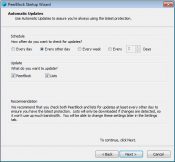 PeerBlock was imagined as a new concept in personal computer protection. The security it provides comes from the fact that it blocks any connection to known bad peers.
In the world of connectivity and P2P connection, it's becoming easier and easier for spyware and hackers to access your files.
That's why many cybersecurity experts recommend using a blocking app such as PeerBlock, which will help you restrict access to selected peers from your computer to keep your computer safe.
Block out Unwanted Peers
P2P connections are some of the most commonly used types of connections worldwide. They're used for transfers between people and entities of files, folders, and other things.
The purpose of the application is to help you monitor those peer connections made with your computer. It will provide you with an overview of the entities connected to your computer so that you'll be able to block them out.
More importantly, you'll be able to block spyware and adware, and other unwanted peers with PeerBlock.
Working as an IP blocker, this firewall comes with a library of bad IP addresses and can be controlled by users by checking or un-checking a list of options.
One downfall is the possible blocking of a website on the allowlist just because it is hosted on a server with its IPs on the blocklist.
View Information and Log History
The big advantage of using this utility is that it provides you with a detailed view and information about the peers that connect to your computer. You will be able to see the log history of all the peers that have connected and view information about them so that you know how to manage them in the future.
You will be able to see the location, time, range, and source for each connection, giving you a much clearer idea of what connections you're making with other people.
This type of information can be extremely helpful to allow you to manage those connections more effectively and stay safer.
Conclusion
Overall, the main purpose of PeerBlock is to provide you with an additional layer of protection. It helps you block access to unwanted peers to remain safe and protect your folders and files from spyware and other unwanted sources.