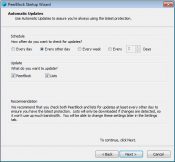 PeerBlock was imagined as a new concept in personal computer protection. The security it provides comes from the fact that it blocks any connection to known bad peers.
And by peers, the program understands hacked computers, spyware-orientated servers, machines that monitor P2P activities, send information, and undoubtedly important entire countries.
In this way, prevention has been taken up to a new level, as no upcoming data or one-way connections to potentially dangerous servers will be possible anymore.
Working as an IP blocker, this firewall comes with a library of bad IP addresses and can be controlled by users by checking or un-checking a list of options.
One downfall is the possible blocking of a website on the white list just because it is hosted on a server with its IPs on the blocklist.