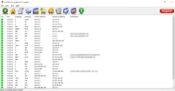 One of the best solutions for DDoS protection for your Windows servers is Anti DDoS Guardian. The software is a highly recommended tool developed primarily for protecting Windows servers, and it can manage network flows to keep out the traffic.
It comes with many features, and it includes slow HTTP Get & Post attacks, OWASP attacks, IP flood, which is one of the most important, TCP flood, UDP flood, bandwidth attacks, and more.
This amazing software can also protect Windows Remote Desktop connections, block country IP addresses, display the flows, or reveal network activities.
You will be able to manage and control network flows, client TCP, and client bandwidth or the number of TCP connection rate.
The interface of this software is a simple and intuitive one. Anti DDoS Guardian is coming with a standard window with few buttons. In the top section, we will find default buttons for each application, File, View, Tool, and Help. On the main screen, we have all the connections and the information about it, Time, Outgoing, Incoming, Local Ip Address, Remote IP Adress, Information, and more.
The buttons that can be used to disable, record, update, modify, and configure the IP addresses to show more details about a connection or stop listing are colored and visible.
The help button is the last one on the list, but don't be afraid to press it when you need to know more about working with Anti-DDoS Guardian.