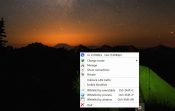 TinyWall is a firewall application that offers limited intrusion. It provides more security, monitoring, and other features than competing programs.
If you use Windows Home, you will get even more value since it was designed with this operating system in mind. That is because Home often lacks important enterprise features.
Stay Safe While Connected
If you have a local network, then you need added security. It is to keep certain third parties from accessing your important information. You want to keep your internet browsing free from prying eyes.
It comes in firewalls, antivirus utilities, and other solutions like this software.
Choose Your Connection
The interface is relatively straightforward to understand. TinyWall allows you to select the kind of connections that occur on your device. It blocks any connection from the start. It means you have to choose which connections are allowed through.
While this might seem frustrating initially, it is useful because you have total control.
Keep the Firewall in Mind
Something that should be said outright: you need to keep in mind that your firewall will be a source of privacy and additional time investment. There are certain rules of thumb to follow when using this software.
If something requires the internet to function properly but is having issues, check TinyWall first. It may be the source of the blockage. Eventually, you will figure out which applications to let through and which ones to watch.
Create Unique Lists of Items Allowed
You can separate applications or connections into two groups. The first group contains items that are allowed by the firewall. It includes anything that you trust.
That way, they don't get caught up. You'll find the ability to do this within the settings section.
Make Special Exceptions
You can make special exceptions for programs and give them the green light. It might include common functions that need internet access on your PC. For instance, printing, file sharing, Windows Remote Desktop, Windows Update, Remote Assistance, and other common network-based features are good starting points for your special exceptions list.
It makes your life easier, so you don't need to grant them renewed permission each time.
Monitoring Capabilities
It is important. A lot of malicious programs can run behind the scenes without your knowledge. TinyWall allows you to see the processes that are currently running.
It includes important aspects like protocols and ports. You can even keep an eye on the remote addresses and destinations.
Furthermore, you can see which apps were recently blocked to see if you want to keep them that way.
Some Final Words
If we summarize our position on TinyWall, it could come down to this: it's a great security program. It's useful without being intrusive. It won't bug you numerous times but will block unwanted traffic.
With the ability to make exceptions, you can ensure that only your desired connections get through. Because of those reasons, we would recommend it to most PC users.