ZoneAlarm Firewall 15.6.111.18054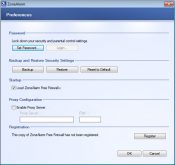 ZoneAlarm Free is a popular firewall system covering the basics of your PC's security: it prevents hackers from getting access to your computer and it blocks viruses and spyware from sending your personal sensitive data to the internet. As a two-way firewall app, this program also tackles malicious downloads and common viruses such as Trojan horses, bots and worms. With the privacy and security toolbar, users stay free of trackers, including on Facebook. Private browsing and inappropriate content blocking become a click away procedure.
Given the fact that this firewall benefits from the feedback of thousands of users worldwide all recently introduced threats are quickly indexed and blocked on the second occasion.