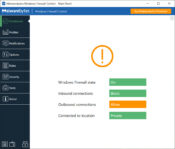 Windows Firewall Control provides you with all the necessary tools to control the Windows Firewall and its functions by allowing you to create rules for programs and profiles for each type of use.
The Windows Firewall is one of the best types of protection you can use for your computer. The firewall is often enough to protect you from various threats you might be encountering, such as viruses.
It is essential to have it properly set up, but it might be a slight inconvenience to open the settings in the Windows operating system.
Windows Firewall Control gathers all the settings you can use for the firewall in one spot to make it easier. With this application, you'll access all of the rules and the additional settings inside the application that you can use for the firewall.
These include creating profiles and additional settings that come with a firewall.
Access from System Tray
When you want to start making changes to the firewall and its settings, you can go to the system tray and click on the icon of this application to begin making the changes.
It enables you to get to the settings in just a click without opening additional windows, which happens when you normally open the settings.
Create Permission Lists, Manage Rules, and More
Within this application, you'll find all the settings you would expect when firewall and controlling the firewall.
You'll be able to create permission lists for the files and applications you want to grant access to, but you'll also be able to create rules for which files you don't want to have on your computer.
In addition, you can manage other tools and rules inside this application that you have access to with a firewall. You can also create profiles and manage various apps and programs separately with this tool.
Conclusion
Windows Firewall Control gives you quick and easy access to your firewall's settings to help you make sure you have set up everything the way you want.