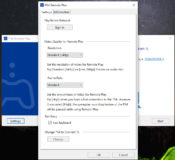 When you want to play your PS4 from your computer's screen, you can use PS4 Remote Play, which can be used to play games, access your PS4's settings, and more from your PC screen.
When you want to play your games remotely from your PS4, you will want to play it with your keyboard and mouse and on your computer screen or with a controller.
Control PlayStation 4 From Your PC
Some users prefer the PC screen as it makes it easier for them to play their games and make settings, especially if they don't want to use the TV as some other people might use it at the same time.
For this purpose, PS4 Remote Play was created. This application is meant to help you control your PS4 remotely from your computer's screen without connecting the two devices.
You only need to have your PS4 and your computer connected to the same network, and then you can allow this app to do its magic.
Configure the App and Get Started
Before you start using this app and accessing your PS4 remotely, you'd need to go through a couple of configuration options. You can access them in the Settings screen. You need to enable the Remote Play function on your PS4 first, though.
You also need to make sure your PS4 is the primary PS4 in your network, or else the connection won't work.
You need to make sure your device is in the "Rest" mode or the power-saving mode. You'll need to use your PS4 controller to use your device than as you want.
Connect Your Sony Account
The last step of the connection is accessing your Sony account. From there, you will start using the features of the application and accessing your PS4 remotely.
You can use it to play games, configure your PS4 remotely, and perform other actions you might wish to perform remotely.
Conclusion
To conclude, PS4 Remote Play is a useful application that lets you access your PS4 remotely and play games, configure it, and much more.