Java Runtime Environment 8 Update 221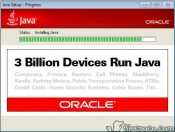 Java Runtime Environment or the standard edition of the Java platform is the tool to use for developing or deploying any Java app both on desktops and servers alike. A must for every browser user and for all developers, this platform features state of the art technologies, among which we remind you about XML, no-codebase deploying, the Java Virtual Machine and the programming language that covers binary literals, strings, statements, underscores, compilers and plenty others.
With libraries provided and several other components included, this tool will run browser applets and standalone applications that have been written in Java language. The documentation covers all the topics on the functionality of each and every function of the software.