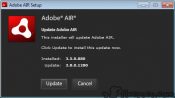 Adobe Air is an application designed by Adobe to help you run cross-platform apps and games, deploy them, and create quality content thanks to the intuitive interface and powerful performance.
The cinematic games can be developed in 2D and 3D, and when it comes to media, users get to play HD video by taking advantage of GPU rendering.
Adobe Air is one of the most versatile applications that Adobe has designed. It will utilize the RIA (Rich Internet Applications) package to bring you the highest order quality.
Allows You To Deploy Rich Content
One of the primary ways that Adobe Air is used is by deploying rich content on various platforms. It supports multiple content types, including apps, games, and HD videos.
Through ActionScript and ByteArray support, the responsiveness of games increases considerably. That's because it allows the code inside to be written in different languages, including Javascript, Actionscript, HTML, Flash, and others.  The content will be optimized thanks to LZMA compression, Stage 3D, and other innovative solutions.
It allows for an elegant and simple procedure for deploying these apps and content on your device. in addition to being versatile and easy to use, Adobe Air also comes with a nice, elegant interface that makes it easy for users to get around it.
Although for the best possible experience, you'll need the full power of your GPU.
Cross-Platform
The app uses advanced Adobe technologies that make it simple for big businesses, small developers, and users to use it fully.
It's also quite simple to use for beginners and complex enough to satisfy the urges of more advanced users.
Conclusion
Adobe Air is a great app for deploying various apps on various platforms. The result may be smoother animation, better protection for content, and extensive support for streaming standards.
It is compatible with all the major platforms and programming languages, making it easy to experience better.