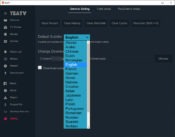 TeaTV helps you play multimedia files and download them or stream them on your computer, where you can watch movies, TV series, anime, and other types of multimedia.
Today, the internet provides us with many great TV shows and movies. They're easily available through streaming platforms, where you can watch just about any show you might imagine. It has become the most popular way of spending time with your loved ones, where you sit back and enjoy your favorite TV shows.
And with TeaTV, you'll be able to stream your favorite shows to your home PC easily. It will help you watch and stream your favorite movies or shows, as well as download them straight to your PC so that you can watch them any time you want.
You can do that from the comfort of your home so that you can enjoy these shows when you want.
Modern GUI Resembles Windows GUI
It comes with a pretty straightforward,  although quite modern GUI. It will closely resemble the Windows GUI because it has a similar array of colors, and the buttons are also quite similar. The app is simple to use, despite looking quite modern. You can sort your multimedia content into categories, allowing you to find your shows almost instantly.
Stream or Watch Movies and Shows
The main capability of TeaTV is, of course, the ability to watch movies online by streaming them or by downloading them to your computer. It can be used as a digital downloader, where you can use the full capacity of your internet connection to download movies and shows.
It also acts as a multimedia player, and it will also help you find subtitles for your shows.
Overall, you'll be able to enjoy the latest shows you can find online. The app will automatically get the latest shows and series so that you can stay up to date. You can also search the library of movies and shows you can download easily.
Conclusion
TeaTV acts as a multimedia player and downloader for your favorite movies and TV shows.