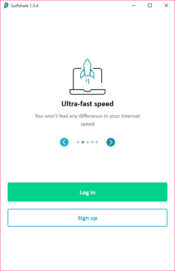 For the protection of your online surfing and your computer, this application is a reliable option. You can get the benefit to search anonymously when online. Through SurfShark, AES 256-bit network traffic encryption is possible for all the users. You do not have to manage any settings to get this encryption of your data. Instead, you will get it on installation and activating it while doing online searches.
SurfShark is associated with more than 500 servers, which are available in more than 50 countries. Additionally, you can get customer support for this application 24/7, so you can get better assistance, in case you are stuck in any problem.
OpenVPN and IKEv2 security protocols are also available to allow this application to work efficiently and manage things in a way that can provide you with the best results while using this application. Additionally, you won't even have to face the issue of maintenance of logs that can create problems for you.
You can manage this application efficiently. It is as simple as turning a wi-fi connection on and off. Moreover, Supports P2P/torrenting allows you to search content without disclosing your identity to the third parties.
SurfShark is an application to protect your identity while browsing online. It can help you in keeping your data secured too.