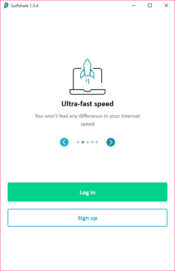 Surfshark is a VPN tool that will help you browse the internet safely and with your details secure, as well as access some websites that are otherwise restricted or locked in your location.
In the internet era, you're not always really sure what you're getting on certain websites. Some might be considered risky to visit, especially if they have trackers or offer you some downloads.
That's why it's always better to err on the side of caution than to be sorry later on, which helps you stay safe.
To do that, you can use a VPN called Surfshark. It's one of the better-known VPNs as it offers you a complete experience and enables you to stay safe online.
You can also visit certain websites that are not available in your location with this VPN tool, which is one of the more advanced and modern VPN tools out there in the market.
Modern and Sleek Interface
One of the main appealing factors of Surfshark is its interface. It's still simple enough for everyone to understand, but perhaps one of the main favorable things about it is its appearance.
It's sleek and modern, giving the users a good chance to get to know it before working with this VPN. You can connect to almost any server in a matter of seconds.
Stay Safe and Secure
The primary goal of a VPN is to ensure you stay as private as possible as you browse the web. That's made possible to you by connecting to a remote IP address you'll use to disguise your real IP address. In turn, this can help you keep your data and information safe from potential threats that find themselves online.
Also, you can connect to various servers from all over the world. It can be useful to access multiple websites that are otherwise not available in your country and make sure that you hide your real IP address.
Conclusion
Surfshark is an advanced VPN tool that lets you browse the internet safely and access various websites.