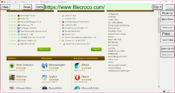 It can be difficult to find a good browser these days. Luckily, Simple Browser is a lightweight solution. It lets you have multiple windows open, all while maintaining your sense of organization. Here are some features to consider about this amazing application:
Simple UI
If you have a browser, you want the UI to be relatively simple. This will connect with the default Google interface to provide you an excellent way to have a retro theme and customize your UI. Being able to control how your experience looks should be a top priority for anyone looking to get into the game. Once you get past the basics, it's really easy to make it work exactly how you want it.
Light on Resources
You don't want your resources to be heavily taxed. Your PC will be able to handle it, even if it doesn't have the best specs ever. It actually uses about 70% less memory than other browsers, in our experience. Plus, it seems to perform function way faster, which is always a plus.
In Conclusion
SB Simple Browser is an old school type tool. It is efficient and useful. It lets you do really fast searches. This means it doesn't consume as much memory as other, more similar applications. It is a low spec way to get your computer to really start doing the things you want. If you need to multitask, then every piece of memory is important.
This allows you to achieve that in a way that is friendly for computer resources.