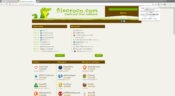 Internet privacy is a big important thing nowadays because a lot of companies and even other people want to learn things about you. That is why it is essential to be protected whenever you are browsing online.
Chromodo can be a pretty useful tool for you which you are going to use every time you want. It has a lot of features which you indeed find helpful to protect your privacy.
This utility has the look of Chrome, but it has stored a lot of features that were made especially for you to have a secured internet experience. One of the most important features is the website scanner one which is used to find signs of malware on a site. It is also an excellent tool for blocking any unwanted ads to appear or networks who want to track what you are doing online.
The incognito mode prevents any unwanted cookies to follow what you are doing.
Another useful thing is the fact that this tool lets you share the pages you are finding online on your social media and the download feature helps you in getting your wanted YouTube or Dailymotion video or audio.